What is Disckreet?
Disckreet lets you and your partner safely record and share intimate photos and videos. Your encrypted recordings can only be seen when you both enter your own seperate passcodes, protecting you from hackers and from your partner if things go bad.
Why we built Disckreet?
23% of people share their partner's sexts with 3 or more friends
23
There are over 3,000 websites containing revenge porn
3000
10% of exes threaten to post sexually explicit images online
10
At least 35 celebrities have recently had some form of sex tap released
35
Why use Disckreet?
Have you ever wanted to record an intimate moment with your partner, but didn't want to risk it?
What if family or friends find it on your iPad?
What if your your phone is lost or stolen?
What if your partner decides to show it to their friends, or put it on the internet?
Hackers don't only target celebrities, what if they target you?
Disckreet solves all these problems by securing your photos and videos with military grade 256-bit AES encryption and only allowing you and your partner to view them when you both enter a passcode.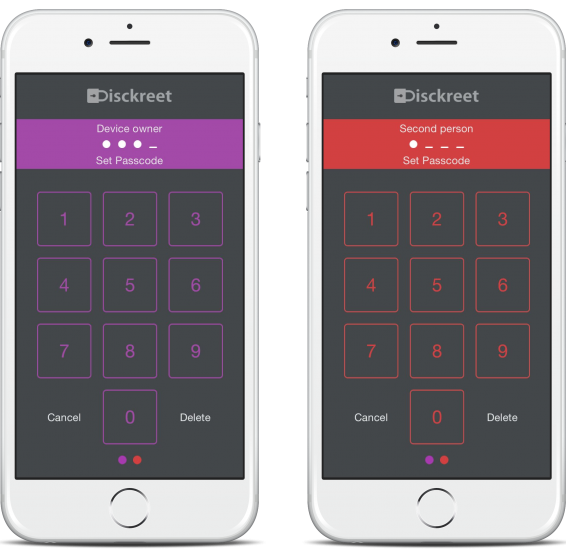 Two passcodes = Total peace of mind
The US military uses the "Two-person Rule" to prevent a single person maliciously launching a nuclear missile. You've probably seen it in movies where two people each have to turn a key at the same time, before the missile will fire. That is what Disckreet does for your intimate recordings. You and your partner each have your own passcode and access will not be granted to your files until both passcodes have been entered.
There is no more worrying about what your partner might do with your photos and videos without your knowledge. Nobody is ever seeing those photos and videos again unless you both give explicit permission, by entering your passcodes at the same time.
Press
"It took two people to make the video, and it's gonna take two people to watch it"
Pando Daily
"Good for couples … who want to spice things up in a safe way"
Marie Claire
"locks all your fears up along with your naughty photos… Problem solved!"
MTV
"a super-useful app"
Refinery29
More Press